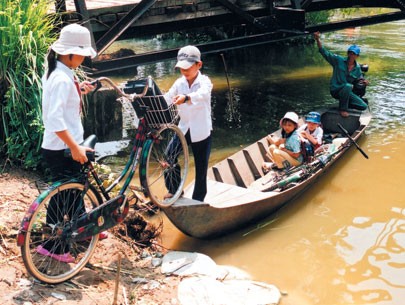 Schoolchildren load their bicycle on the boat to school in heavily flooded An Giang
An astonishing 32 children have drowned in the rising waters of the Mekong Delta.
In An Giang on the delta's western edge, seven villagers nearly shared the children's fate when they were swept into the fast-moving currents, but rescuers managed to get to them in time.
The Red Cross Association of An Giang and Dong Thap has set up 769 rescue centers in the two provinces and sent out 3,200 rescue workers and medical personnel as a precautionary measure.
In the Kien Giang town of My Thai, two classes of preschoolers have been kept at home as their school has been repeatedly submerged.
Rather surprisingly, few kids in Dong Thap, Kien Giang and An Giang have lost any class time since the academic year began last month.
Fortunately most of their schools were elevated or reinforced several years ago to prevent the inevitable overflow of water from the annually flooding rivers.
To protect school kids in heavily flooded areas, some remote schools have sent out small boats to ferry thousands of children to class and home again.
Also in Kien Giang, Chairman Bui Van Dat of the Hon Dat District People's Committee says most of the district's school children are still getting an education as the roads and school floors were raised several years ago to a level above the flood peak of 2000.