The Prime Ministers of the six countries sharing the Mekong River are convening in Lao for the third Greater Mekong Sub-region (GMS) Summit to discuss coordinated actions to reduce poverty and promote sustainable development in the region.


The actions are based on expanded transportation and telecommunication linkages, streamlined trade agreements, and greater environmental management efforts, says the Asian Development Bank, which has been the leading supporter of the GSM Economic Cooperation Program since it began in 1992.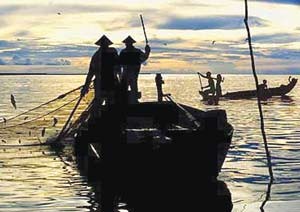 Fishing is a way of living of many residents in the six Mekong countries.
ADB President Haruhiko Kuroda is joining the leaders from Cambodia, China, Laos, Myanmar, Thailand and Viet Nam, the bank said in a March 30 announcement.

The six Prime Ministers, including Vietnamese PM Nguyen Tan Dung, will have a dialog with the GMS Youth Forum, and meet with members of the GSM Business and Investment Forum.

The six nations are expected to endorse on March 31 a five-year action plan (2008-2012) to foster economic growth and prosperity in the region.

Mr. Arjun Thapan, Director General of ADB's Southeast Asia Department, said in the announcement, "The nations and 320 million people who share the Mekong region have transcended past conflicts in order to work together for the betterment of their shared futures."

"The gains realized by Mekong nations over the past fifteen years clearly demonstrate that coordination and cooperation between neighbors is the most direct pathway to greater prosperity," he added.

Since its inception in 1992, the GMS has developed into one of the fastest growing regions of the world, with an average gross domestic product of over 6% in recent years, according Asian Development Bank statistics.

Exports from the Mekong countries, excluding China, have quadrupled from US$37 billion in 1992 to US$179 billion in 2006, and foreign direct investment in the GMS has more than tripled from $2 billion in 1992 to $7 billion in 2005.

Annual tourist arrivals have also risen dramatically, from 10 million in 1995 to over 22 million in 2006, also according to ADB statistics.

Over the past 15 years, approximately $10 billion in investments have been made in 34 regional development projects. ADB has contributed over one-third of the overall amount.

The GMS Economic Cooperation program focuses on nine development areas: agriculture, energy, the environment, human resource development, private investment, telecommunications, tourism, trade and transportation.