Ben Tre Province is gaining an abundant winter-spring rice crop, having harvested about 118,300 tons of unhusked so far.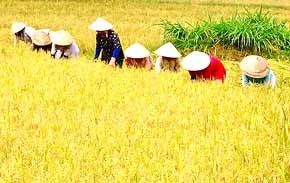 Ben Tre farmers harvest rice on the field (Photo: SGGP)
Farmers in the Mekong Delta province have harvested the commodity from almost 21,000 hectares. The average revenue from each hectare is VND27.5 million, and the farmers' profit per hectare averages VND16.5 million (more than US$1,000).

The results are considered great success in recent years.

Ben Tre farmers have tried to prevent leaf diseases which often harm the plants seriously. They have also used fertilizers more properly, thus reducing production cost.

In the beginning of the crop, local agricultural workers encouraged farmers to use high-yielding rice varieties, and this also helped bring about this abundant crop.