The electricity department of the Mekong Delta Province of Vinh Long plans to provide electricity to most of the residents in the region, by setting up at least 77 electric projects at a cost of VND47 billion (US$ 2,238,000).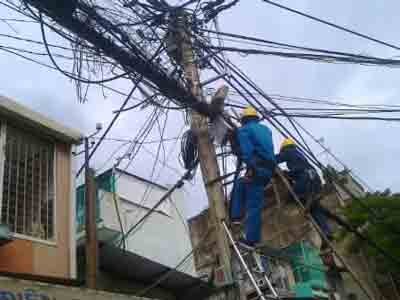 Mekong delta province of Vinh Long upgrading its electric supply network (Photo: Hong Nhu)
46 of these projects are already underway at a total investment of VND 10.2 billion, while the remaining 31 projects are set to complete this year.

The electricity department has conducted massive upgrading of electric grids across the province, in preparation for the coming rainy season. It has also spent a substantial amount on 9 major electricity projects in the districts and on 25 projects to install street lights along roads in rural communes of districts Binh Tan, Binh Minh and Tra On.
1,100 residents living in remote communes have benefitted from these projects. Most of the electricity projects have been funded by the World Bank.
However, the department still faces many challenges and obstacles as households are located far apart and with greater distances to cover, more capital is required as costs go up.
Over 20,000 households in the province have no electricity in their homes. Residents often have to borrow from neighbors at an inflated price, causing a loss to the distributing network.
The Department of Industry and Trade in the Province is therefore collaborating with the Electricity Department to implement fool proof plans to install private electric meters for each separate house so residents will pay as per government price.
The Vinh Long Electricity department will also be responsible for repairing connections to private homes and ensure that the supply is stable across the province.