As per the center's information, the water level on the Tien River at Tan Chau Station was expected to peak at 3.49m, at the warning level 1; on the Hau River at Chau Doc Station was measured at 2.89m.

In the next days, the water level upstream on the Mekong River will continue to rise. Up to August 15, it will reach 3.85m at Tan Chau Station and at Chau Doc at 3.25m, respectively.
On August 20, the water level at Tan Chau Station will peak at 3.9m; at Chau Doc Station 3.3m respectively. The center forecast the flooding will hit downland areas along the river and areas unprotected by the dyke systems of An Giang, Dong Thap, Long An provinces.
To cope with the situation, leaders of local departments of agriculture & rural development actively take nessesary measures to prevent floods. Mr. Tran Anh Thu, director of An Giang department said the province's key task current is to protect 18,000 hectares of summer autumn rice crop which have been not harvested and about 16,000 hectares of vegetables, fruits unprotected by the dyke systems in the districts of Chau Thanh, Chau Phu, Phu Tan and An Phu.
However he worried that the rising floodwaters will cause difficulties to local people in many localities.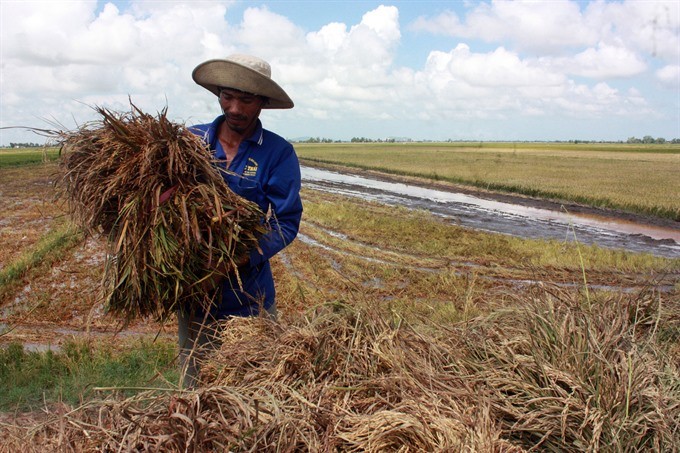 Farmers in Mekong harvest rice -VNS
Mr. Nguyen Van Buon, deputy head of Agriculture & Rural Development Division of Dong Thap province's Hong Ngu district said local authorities are keeping close watch on weather situation and planning to support local farmers if their vegetables, rice may be damaged by the flooding. Families having crops not protected by the dyke systems will not receive support from the government.
In Long An province, the department had asked local farmers to focus on harvesting before August 15 to minimize losses from floods. It is expected over 7,000 hectares of rice crop will be harvested completely on schedule. However, local authorities estimated that around 12,529 hectares of summer autumn rice crop will be affected if the flooding rises quickly as unscheduled.