The Mekong Delta City of Can Tho is to regulate sand dredging and selling, in a bid to stop exploitation where riverbanks may collapse, as well making licensed owners clearly display traffic signs and their specific areas of dredging, the city's administration has announced.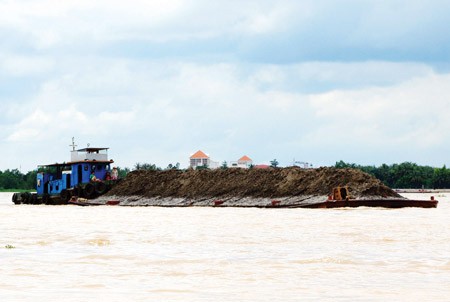 River sand exploited and transported in the Mekong Delta (Photo: SGGP)
Following the Cambodian government's ban on sand exports, hundreds of local barges have been working at full-blast on the Can Tho stretch of the Hau River (a main branch of the Mekong) to dredge sand, causing irregular water flows and inflict major environmental damage.
 
In addition, at least another 300 boats have been used to carry sand to foreign boats from Singapore, Malaysia, Indonesia or domestic construction firms.
 
Since early 2009, the Vietnamese government has allowed boats carrying sand from Cambodia to anchor at the Hau, which flows through Can Tho City in the Mekong Delta.
 
The river stretch has become a major trading post for sand with boats collecting the Cambodian sand after docking at the Can Tho and Cai Cui ports in the city.
 
Authorities have already given 25 licenses to 16 businesses to exploit more than 25.2 million cubic meters of sand. However, everyday hundreds of unlicensed sand dredgers and transporters, both domestic and foreign, work on this section.
 
In June 2009, when inspecting the Hau, Thot Not District Police and authorities made 54 reports, such as operators not having a captain's license, overloaded ships, illegal sand dredging in nautical jets and 14 reports of exploiting sand in inappropriate areas.
 
Dang Huu Phuoc, head of the Office of Mineral Resource, Water and Hydrometeorology, admitted that the office cannot know the real output of sand exploitation in each area, as dredgers do not inform authorities of how much sand they take.
 
Estimates of dredged sand exported to foreign countries vary from 25,000 to 50,000 tons.
 
According to Phan Van Ho, deputy head of the Can Tho City People's Committee Secretariat, another "sensitive" issue to draw much public interest is evidence of illegal dredging disappears after unannounced inspections.
 
Such uncontrolled actions cause riverbanks to collapse, pollution, and sand shortage, but provide large profits to individuals without benefit to the State.
 
In 2008, Can Tho's tax department collected just VND500 million (US$28,100) from sand dredging operators.
 
Consequently, Mr. Ho suggested that Can Tho authorities should regulate the situation as soon as possible by checking and projecting sand mines in the area, holding an auction of dredging licenses to earn more money for the city's budget, and rejecting inexperienced and incapable dredgers.