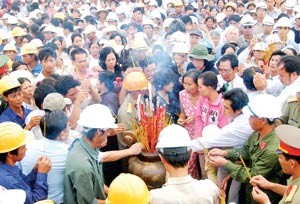 More than 1,000 people attend the memorial service.
A memorial service was held near the wreckage of Can Tho Bridge yesterday for the 49 workers who died in the collapse of two spans last Wednesday.
The guests included Mr. Kanji Hayama, president of the Taisei Corporation, the main contractor, and Japanese Ambassador Morio Hatori, who expressed their condolences to the Vietnamese government and the families of the dead.
On behalf of the Vietnamese government and people, Minister of Transport Ho Nghia Dung also expressed his condolences to the families.
Mr. Dung said he was committed to working with the contractors to care for the families of those who had lost their lives and for the injured workers and their families.
Mr. Hayama apologized for the tragedy, and said he was determined to discover the cause of the accident and resume construction in strict accordance with the safety requirements.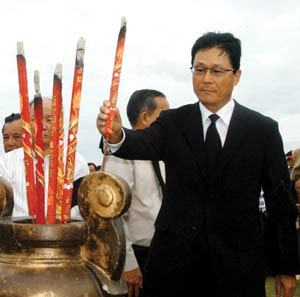 Japanese Ambassador Morio Hatori offers incense to people who died in the collapse of Can Tho Bridge
Mr. Hatori expressed his deepest regrets for the collapse of Can Tho Bridge, which is being built with Japanese money and technical expertise, and promised there would never again be an accident like that.
The service ended with a minute's silence in memory of the victims and the placing of incense sticks by more than 1,000 guests.

Besides the victims' families and the above-mentioned dignitaries, the service was attended by Deputy Prime Ministers Truong Vinh Trong and Hoang Trung Hai, the Japanese Consul General in Ho Chi Minh City, and representatives of the Japanese Bank for International Cooperation and the Japanese International Cooperation Bureau.

Viet Nam's worst construction disaster yet left 49 people dead, three missing and 82 seriously injured.

Related articles:
Leaders Urge Nation to Support Victims of Can Tho Bridge Collapse
Death Toll Reaches 46 in Can Tho Bridge Collapse