Prime Minister Nguyen Tan Dung attended a ceremony to inaugurate a memorial stele for military medical officers in the southern province of Kien Giang on May 1.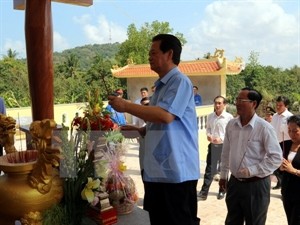 Prime Minister Nguyen Tan Dung offered incense at the Ba Hon national historical relic site (Photo: VNA)
He joined over 250 ex-officers who used to fight in the Ba Hon region during the US war in Vietnam .
The inaugural function took place in the Ba Hon national historical relic site in Hon Dat district to mark the 40th anniversary of the liberation of South Vietnam and National Reunification Day on April 30.
The construction of the stele began in 2012 on an area of over 1,000 square metres and with a total investment of over 3 billion VND (140,000 USD) raised by individuals and organisations for the first phase.
In the second phase, starting from now to 2020, more investment will be poured into building fences, restoring the exhibition house and offering physical therapy services to veterans.
The stele commemorates the medical soldiers who made significant contributions to the national liberation cause and the great 1975 spring victory.
During wartime, more than 300 medical soldiers from the Mekong Delta province of Kien Giang laid down their lives to safeguard the country.
It was in the historic Ba Hon region where Prime Minister Nguyen Tan Dung once lived and fought alongside local medical soldiers for over 15 years.
Speaking at the event, the Prime Minister expressed his pleasure to once again meet his brothers-in-arms with whom he helped defend the country.
He encouraged the ex-medical officers to promote the revolutionary tradition, develop the local economy and make more contributions to the nation, while continuously searching for the remains of fallen soldiers.
He also offered incense in tribute to the deceased and planted a commemorative tree.-