A Mercedes car burst into flames on the Dec. 18 afternoon in Hanoi while it was running on a street but four people in the sedan got out of it unharmed.
The car, with the Hanoi number plate 29M-3345, was running on Nguyen Xien Street then fires broke out from the motor. The four people inside got out to find ways to put out the flames but in vain.
After a while, the ruins were just the car frame.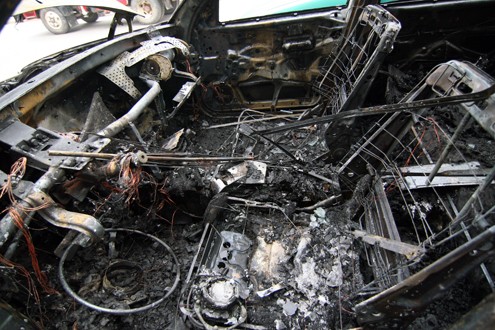 What seen inside the Mercedes sedan after fire on Dec. 18, 2011 (Photo: VNExpress)
Ngo Van Ninh, a man in Hoang Mai District of Hanoi who drove the car at that time, said the sedan was bought five years ago and it had run stably until the Sunday fire.
The fire caused a serious traffic jam on the street.
In related news, a truck caught fire also Sunday while it was running on National Highway 91 in Chau Phu District, An Giang Province in the Mekong Delta. The flames broke out from the motor and the cabin.
The site was just in front of two petrol stations, and the station owners had their tens of their staff to put out the fires with extinguishers and water pumps. They extinguished the flames after half an hour.
Truck driver Nguyen Van Nhut said he had earlier found some oil leaks from the engine over the past few days.