The Ministry of Information and Communications (MIC) and the US-based Microsoft yesterday announced the implementation of a public-private partnership agreement aimed at fostering information technology in Viet Nam.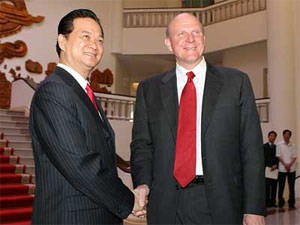 Prime Minister Nguyen Tan Dung shakes hands with Microsoft CEO Steve Ballmer
The agreement - which was signed in May last year by MIC and Microsoft, and witnessed by Prime Minister Nguyen Tan Dung and Microsoft CEO Steve Ballmer - is the realization of Microsoft's commitment to assist Viet Nam's government in carrying out its information, communication technologies policies.
 
According to the agreement, Microsoft pledged to provide technology training to 200 officials and employees from 22 ministries and agencies in 64 cities and provinces.
 
The company will grant 300 trainee scholarships to information technology students nationwide and help 20 small to medium software enterprises develop their business.
 
The deal will be in effect for three years.