The Consultative Group for Viet Nam will hold its informal mid-year review meeting on June 5-6 in the northern hilly city of Sa Pa, the World Bank in Viet Nam announced Monday.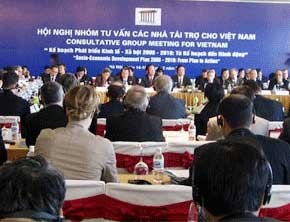 A previous Consultative Group for Viet Nam meeting (Filed photo)
The meeting will focus on recent socio-economic development issues; a report from the Viet Nam Business Forum; report back on anti-corruption dialogue; climate change issues; and northern mountains provincial development and aid effectiveness.
A separate Viet Nam Business Forum (VBF) with the business community – both domestic and foreign – will be held on June 2 in Ha Noi.
This forum, organized by the World Bank's private sector arm – the International Finance Corporation – in cooperation with the Vietnamese Ministry of Planning and Investment, will be dedicated to discussions on review of investment climate; latest issues in the banking and capital markets, manufacturing and distribution, and tax; and reports from other VBF working groups.
Last year's Consultative Group Meeting for Viet Nam was held in Ha Noi in December, where donor countries and international development organizations indicated a record amount of US$5.4 billion in support of the nation's poverty reduction and development agenda.
The Viet Nam Business Forum is a structured and on-going dialogue between the Vietnamese Government and the business community with the aim of developing a favorable business environment that attracts investment and stimulates growth.