A mild earthquake measuring 4.7 on the Richter scale shook some buildings in Ho Chi Minh City on Wednesday.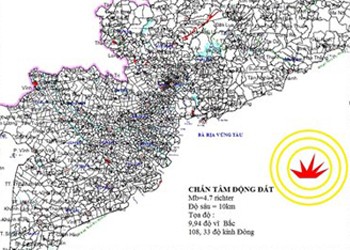 The red point marks the epicenter of the quake off Vung Tau coast
At 2:24 pm many residents ran out of their buildings in HCMC as the tremors were felt. Some buildings have been slightly shaken in Phan Xich Long Street in Phu Nhuan District.
A man working in a building in that area said between 1-2pm yesterday, people working on the 7th floor and above felt the tremors causing them to run out of their offices. However, people on the lower floors remained completely unaware of the incident.
The epicenter of the quake is said to be the southeastern city of Vung Tau, 200 kilometers from HCMC at 9.94 degrees north latitude and 108.33 degrees east longitude.
The Earthquake Information and Tsunami Warning Center said the earthquake rendered level 5 vibrations in the MSK-64 scale which includes 12 levels off Vung Tau coast. It was a mild quake that did not cause any major damage.