General Vo Nguyen Giap on May 4 met 26 military attachés from 23 foreign embassies in Vietnam who called on him in Hanoi on the 55th anniversary of the Dien Bien Phu Victory (May 7).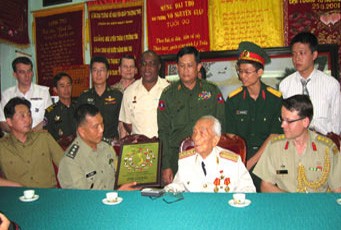 General Vo Nguyen Giap (in white uniform) receives a memento from the Philippine military attaché, who called on him along with his counterparts from 22 other countries, on May 4 in Hanoi in connection with the Dien Bien Phu anniversary (Photo: QDND)
Among the attachés were those from several countries that helped Vietnam in its resistance war against the French colonialists -- like China, Laos, Cuba, Russia, and North Korea.
Speaking to them, General Giap expressed the hope they would continue to help develop peaceful, friendly, and cooperative relations between Vietnam and other countries.
The Philippine military attaché, who headed the delegation, presented him a memento.
Some of the visitors asked for General Giap's autograph.
A photo exhibition tiled "General Vo Nguyen Giap – Moments" by Colonel Tran Hong, also a photographer, opened the same day at the Information and Exhibition Center in Hanoi.
On display are 99 photos of General Giap taken in the last 15 years.
The exhibition will go on until October 10.
Vietnam grant medal to Chinese experts
The Vietnam Union of Friendship Organizations (VUFO) on May 4 presented the "For peace and friendship between nations" medal to 15 Chinese experts who assisted Vietnam in its struggles for independence.
They medals were presented by VUFO chairman Vu Xuan Hong to mark the 55th anniversary of the Dien Bien Phu Victory, May 7, and the 34th Liberation Day of South Vietnam, April 30.
On behalf of the guests, deputy chairman of the Chinese People's Association for Friendship with Foreign Countries Jing Dunquan expressed happiness at receiving the medal and said they would continue to promote the traditional friendship between the two nations.
The visitors are on a week-long trip to Vietnam starting May 3.