The military must thoroughly understand the national defence policy, strictly implement concrete and regular activities as well as assignments in emergencies in line with the Party's instructions and viewpoint, and persevere in the combined target of national independence and socialism, said Party General Secretary Nguyen Phu Trong.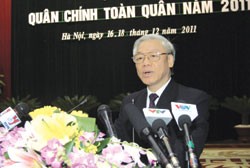 Party General Secretary Nguyen Phu Trong tells a conference that maintaining an environment of peace and stability for national development is in the Vietnamese people's highest interest
Talking with the Political-Military Conference held in the capital yesterday, Trong – who is also Secretary of the Central Military Committee – emphatically said that the soldiers had to bear in mind that maintaining an environment of peace and stability for national development was the highest interest of the Vietnamese people.
The Party leader spoke of the task to modernise the defence industry to be capable of designing, manufacturing, repairing and improving high-tech weapons in order to take on its role as an important part of the national security force.
He also stressed the need to continue with Party building work, step up the campaign "Learning and Following President Ho Chi Minh's moral example", and improve the spiritual and material life of the soldiers.
Reviewing the past year, General Phung Quang Thanh, Minister of National Defence, said that the Viet Nam People's Army had actively thwarted all "peaceful evolution" schemes that aimed at overthrowing the administration, and was truly a core force in enabling the entire people to maintain national independence, unified sovereignty and territorial integrity of the Fatherland. These actions helped protect the Party, State and people, safeguard the revolutionary achievements and the socialist regime, and maintain an environment of peace and stability for national development.
The military also effectively took part in socio-economic development programmes aimed at hunger elimination and poverty reduction as well as campaigns to pay gratitude to those who had made great contributions to the nation. Its efforts also helped build up a new cultural life, especially in the islands, mountainous and remote regions and areas that are beset with difficulties.
Military-economic units have run in line with their purposes and promoted their positive impacts on society. A number of military-run enterprises have been operating profitably and have enjoyed success in building up their brands and competitiveness. The military has been a core force in all endeavours for rescue activities and mitigating natural calamities and combating diseases, Thanh added.
During its three day sitting, the conference will clarify the military's shortcomings, their causes and work out solutions to overcome them. It will also discuss the implementation of future tasks, including the task of defence industry development till 2020 and beyond.