Once the new threshold for personal income tax is increased to VND9 million (US$430) per month starting July 1, millions of people will no longer come under the personal income tax bracket.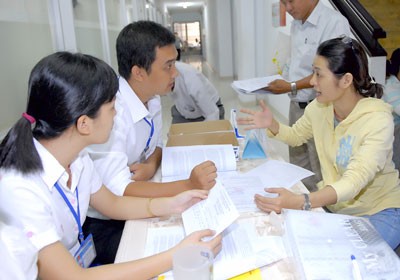 Tax collectors explaining tax procedures to customers (Photo: SGGP)
The Ministry of Finance is submitting a plan to the government asking for amendments to the tax law and raising the threshold of personal income tax from the current VND4 million ($190) to VND9 million per month and deduction for families from the current VND1.6 million to VND3.6 million per dependant per month.
This means that only single persons who earn less that VND9 million per month and people with one dependant who earn less than VND12.6 million will not be obliged to pay tax from July 1.
With the new threshold,  the state budget revenue will decrease by VND5,200 billion ($247,000) and about 2.8 million people will no longer pay tax on their income starting next July.
In addition, there will be other allowances such as toxic allowance or for people who have contributed in wartime, and tuition fee for laborers' children who study in oversea countries. These will all be exempt from tax.
Income from transfer property assets between husband and wife, parents and children, parents-in-law, meal wages, night shift wages and overtime work wages will also see tax exemption.
The new tax law also provides for reduction of tax if people face natural disasters, fire, illnesses and such accidents.
The Ministry of Finance also announced that taxpayers and their dependants will receive reduction only if they have a tax code, without which they cannot file for exemption.  Taxpayers have three months to submit documents of dependants to the Ministry.
Nguyen Van Phung from the Ministry said organizations and companies have been instructed with procedures to follow and the Tax Department said it will issue a tax code to taxpayers after July 1.