Australia and Germany have provided financial and technical assistance to conserve and develop key bio-sphere spots in the southern province of Kien Giang at a cost of more than 1.6 million euros.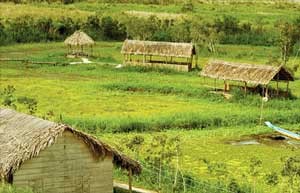 Farm land in Kien Giang Province's U Minh Thuong (Photo: Dat Mui newspaper)
AusAID has channeled the aid through the Germany Technical Cooperation Organisation (GTZ) to execute the scheme in Phu Quoc Island and U Minh Thuong National Parks, as well as coastal forests in several districts from now until June 2011.
During 2009, the project will help to create five models on enriching forest resources and improving local residents' incomes in the belt areas, providing wildfire extinguishers and improving the management capacities of rangers in the U Minh Thuong and Phu Quoc national parks.
The Kien Giang bio-sphere reserve was officially recognized by the United Nations Educational, Scientific and Cultural Organisation (UNESCO) in 2006. Its 1.1 ha area includes the U Minh Thuong National Park, which is one of Vietnam's few remaining wetland forests and one of the top three conservation priorities in the Mekong Delta.