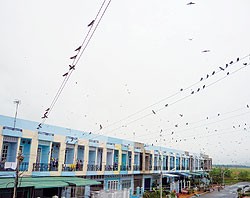 Swallows alight on power grids. (Photo: Thanh Nien Newspaper)
Millions of swallows have flocked to the Mekong Delta province of Bac Lieu in the past three days. The surge is thought to be due to the gradual improvement of Bac Lieu's environment.
A local resident said swallows had migrated to the town in previous years, but this is the first time they have come in such great numbers.
The phenomenon has attracted many people to the town to observe the birds.