Authorities at agencies managing heritage sites should change their mindset in order to better conserve relics recognised as heritage sites, experts have said.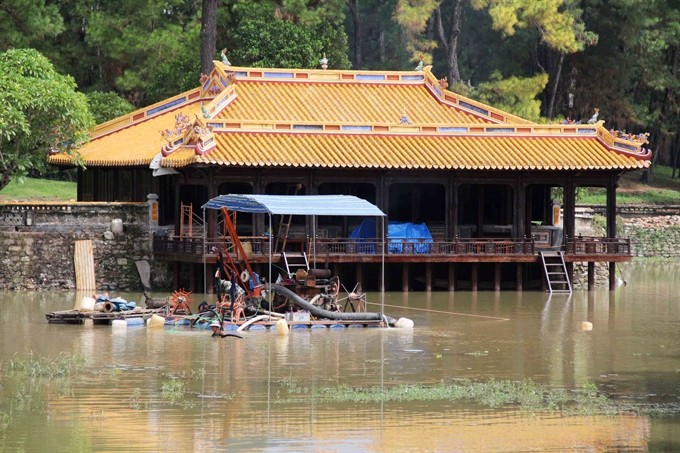 Preservation: Dredging work conducted for a conservation project at the mausoleum of Tự Đức Emperor in Huế. — VNS Photo Phước Bửu
Researcher Trần Đức Anh Sơn said at a seminar held in Huế yesterday that inconsistent management and a lack of expertise among managers has hindered the conservation of relics around the country.
"Unhealthy competition between localities with relics has caused delays in the recognition of national heritage items by the Ministry of Culture, Sports and Tourism," he said.
Experts said every locality wants recognised items, which means a good tourism profile for the locality as well as funds for the conservation of the recognised buildings.
Sơn highlighted the case of the Huế complex of royal monuments in 1993. Many among the 81 items built by the Nguyễn Dynasty (1802-1945) recognised by UNESCO as world cultural heritage items had not been on the ministry's list.
The cause of this was that Huế had already had so many items recognised, compared to other localities, he said.
Other speakers at the seminar also noted techniques and rules used for restoring the buildings.
Many buildings in Huế have been changed in style and colour due to the conservation work. Huế has a different carving style compared to the northern provinces, thus carved wooden structures in the former imperial city gained an abnormal facelift after being worked on by northern artisans.
Designers today use the metric system for measuring but every building in Huế was based on a measuring unit regulated by the dynasty, which has led to imprecise structures and connections between spare parts after restoration.
Sơn also spoke about the different mindset between conservationists and local government officials on conservation. "When they meet, it would be good for the relics. Vice versa, those building will get unexpected changes," he said.
The seminar was held by the Ministry of Communications and Information on local tourism promotion for the relics, but it included speeches on conservation and the balance between conservation and tourism growth.