Minimum wage increase should be securitized and harmonize with labor productivity growth rate to prevent businesses from a shock because they have still faced with many difficulties and unemployment rate had been on the rise, stated  Chairman of the Vietnam Chamber of Commerce and Industry (VCCI) Vu Tien Loc.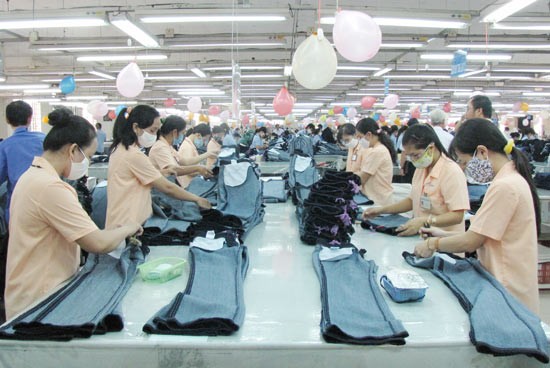 Experts forecast minimum wage increase will shock businesses (Photo: SGGP)
He made the statement ahead of the National Wages Council's second session tomorrow to debate and decide minimum wage increase level in 2016 before sending a proposal to the Prime Minister.
According to Mr. Loc, while the Vietnam General Confederation of Labor has suggested 16 percent hike, most local and foreign businesses associations have said 6-7 percent reasonable.
Mr. Loc quoted a recent study by the World Bank saying Vietnam's minimum wage hike would reduce employment increase.
The International Labor Organization has also said Vietnam's labor productivity growth lowest in the Asian region, accounting for one fifteenth of Singapore, one fifth of Malaysia and two fifths of Thailand.
Suitable increase should be 6-7 percent next year because with labor productivity growth of only 3 percent a year for the last decade, inflation rate less than 1 percent now and forecast below 3 percent in 2015 and 2016.
VCCI's is in favor of 9-10 percent increase to balance with the 3 percent growth rate of labor productivity and the price escalation of 1-3 percent. If the level moves higher than that, it will raise up unemployment rate.
In fact, the minimum wage increase rate has been high, up from VND350,000 a month in 2005 to VND2,150,000 in 2015 in region 4.
The increase level averaged 20 percent during this phase. There is a big distance between wage and labor productivity growth rates.
According to Mr. Loc, Vietnam should learn experiences from China in this matter.
He cited experts' statements saying that China's wage hike reached 10 percent a year for the last decade causing its goods competitiveness down in the global market. Many foreign investors have left China, the country's economic growth reduced to 7 percent recently compared to 10 percent before and exports saw a year a year fall of 8.9 percent in July.
These have led China to depreciate the yuan to boost exports and create employment.
At companies recruiting many workers, wage costs are a significant and decisive factor to their products' competitiveness. Those with labor costs accounting for 30 percent of total, the 16 percent wage raise will lift cost prices by 5 percent, which will cause a shock to them, Mr. Loc said.
Region 1 includes urban Hanoi, Hai Phong and Ho Chi Minh City. Region 2 comprises rural Hanoi, HCMC, Hai Phong and the main cities of Hai Duong, Hung Yen, Bac Ninh, Thai Nguyen, Nha Trang, Can Tho and Rach Gia.
Region 3 covers provincial cities and the main districts in the provinces of Hai Duong, Vinh Phuc, Phu Tho, Bac Ninh, Nam Dinh, Phu Yen, Dong Nai and Tien Giang, Ben Tre.  Region four is the least developed areas in Viet Nam.