Regional minimum wages will be raised by an average 12.4 percent on January 1, 2016 as approved by the Government recently, two months after the plan was proposed by the National Salary Council.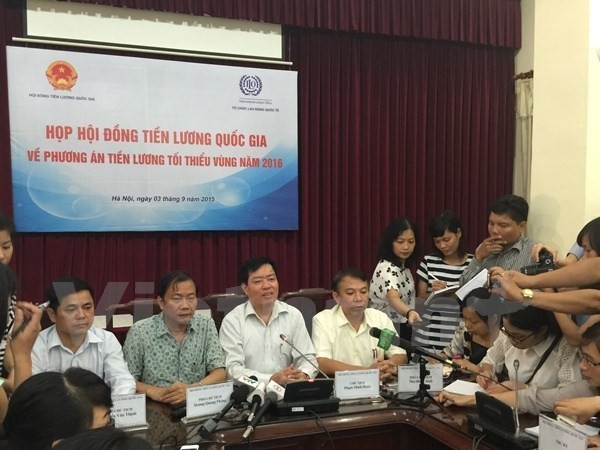 The National Salary Council announces the proposed minimum wages in September (Photo: VNA)
Under the Government's newly issued Decree 122/2015/ND-CP, the minimum monthly wage for Region 1 will be 3.5 million VND (155.6 USD), up 400,000 VND (17.8 USD) compared to the 2015 level.
The minimum monthly wage for Region 2 will be 3.1 million VND (136.4 USD), up 350,000 VND (15.6 USD), while the level for Region 3 will be 2.7 million VND (118.8 USD), up 300,000 VND (13.3 USD), and for Region 4, it will be 2.4 million VND (105.6 USD), up 250,000 VND (11.1 USD).
Regionally-based monthly minimum wages vary in four different regions based on four separate benchmarks determined by living standards in each area.
Region 1 covers urban Hanoi and HCM City; Region 2 covers rural Hanoi and HCM City along with urban Can Tho, Da Nang and Hai Phong cities; Region 3 applies to provincial cities and the districts of Bac Ninh, Bac Giang, Hai Duong, and Vinh Phuc provinces; and Region 4 encompasses the remaining localities.
The new wages are applied to workers in businesses, unions of cooperatives, cooperatives, cooperative groups, farms, households, individuals and organisations that employ workers under labour contracts.
They serve as the basis for employers and workers to negotiate and pay monthly wages.
The decree also specifies that when applying the new regional minimum wages, employers are not allowed to remove or reduce other wages that are paid for labourers who work overtime, night shifts or in hard and toxic working conditions, along with other allowances stipulated in labour-related regulations.
Benefits, allowances and bonuses will be provided in compliance with labour contracts, collective labour agreements or businesses' own regulations.
The Government also makes it clear that employers must pay trained workers at least 7 percent higher than the regional minimum wage.
Decree 122/2015/ND-CP will replace Decree 103/2014/ND-CP issued on November 11, 2014.-VNA