The minimum wage look set to rise on January 1 if the Government approves a recommendation by the Ministry of Labor, Invalids and Social Affairs.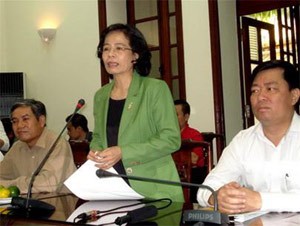 Deputy labor minister Huynh Thi Nhan (standing) at the press conference yesterday
At a press conference yesterday, deputy labor minister Huynh Thi Nhan said the minimum pay at domestic enterprises would go up by 20-38 percent, and at foreign-invested companies by 13-15 percent.

This time the increase will not be across the board, however, but will depend on the employer's location and the cost of living in that area. Still, the greatest difference in the pay increase will only be 10 percent.
 
There will be three subdivisions for determining which pay increase applies where, the top one being the inner districts of Ha Noi and Ho Chi Minh City.
 
Number two is made up of the outer districts of Ha Noi and HCMC, the inner districts of Hai Phong, Ha Long, Bien Hoa, Vung Tau, Thu Dau Mot, and the districts of Thuan An, Di An, Ben Cat and Tan Uyen in Binh Duong Province.
 
The rest of the country makes up the third subdivision.
 
Workers in inner Hanoi and HCMC will therefore make at least VND620,000 a month, up 38 percent on the current minimum wage, the second region VND580,000 month, and the third VND540,000 a month, up 20 percent in both cases.
 
At foreign companies and joint ventures, the respective pay hikes will be 15 percent or VND1 million, 14 percent and 13 percent.
 
According to Ms. Nhan's ministry, the higher minimum wage will narrow the income gap between foreign-invested and domestic enterprises.
 
If the change is approved, some six million employees will enjoy a wage increase, made up of one million in foreign companies, three million in private and "joint-stock" firms, and two million in state-owned enterprises.
 
Pham Minh Huan, head of the ministry's salaries and wages department, pointed out that workers would not necessarily get more money as most companies were paying above the minimum wage anyway.
 
"The increase will not affect employers much because many of them are already paying more. But it will mean higher premiums for social and medical insurance," deputy minister Nhan said.
 
Before making its final recommendation, the labor ministry will take into account the nation's economic growth, the consumer price index, and the demand and supply situation in the labor market.
 
According to a five-year plan starting next year, the minimum wage will be raised every January until 2012 to make it equal in all the nation's business enterprises.