In order to stop a skyrocket of numbers of delayed flights causing anger among passengers, Minister of Transport Dinh La Thang Friday asked the Civil Aviation Administration of Viet Nam (CAAV) to check on reasons and responsibilities of related agencies.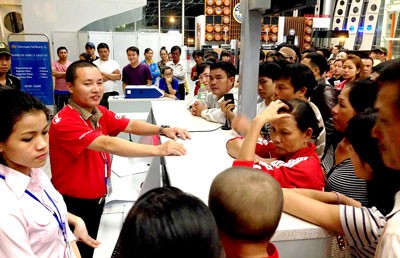 Passengers make complaints on Vietjet Air's delayed flight in Da Nang International Airport (Photo: SGGP)
According to Director of the CAAV Lai Xuan Thanh, airlines' flights are often delayed or cancelled because airport facilities cannot handle peak-hour traffic and ground services are not able to meet high demand.
Moreover, scheduled flight timetables of low-cost carriers are not down-to-earth because time for turning back planes is too short, aiming at increasing aircraft use cycle.
The reason for delay and cancellation of flights is also due to congestion during peak hours and poor infrastructure in Tan Son Nhat International Airport in HCMC or weather reason, said Thanh.
Passengers have flown into anger at a delayed flight announcement because air carriers have not announced passengers the reasons, added Thanh.
In addition, carriers have not sent representatives to explain and receive complaints from passengers while carrier staffs have had improper behaviors to clients, he emphasized.

However, Minister Thang said the CAAV, Transport Bureau and related agencies must resume responsibility for all delay and cancellation in the past time as these agencies exercised management weakly and they did not well supervise air carriers' capability and activities. They shifted responsibility on air carriers. Owing to poor management, air carriers delayed and cancelled flights immoderately causing losses for passengers.

He also asked the CAAV to set up a restructuring plan and make changes to the Aviation Law focusing on revising service quality, security and safety. Currently, air carriers that have delayed or cancelled flights have not been fined though there are regulations on the matter, Minister Thang said.
The minister required country's carriers to adopt solutions for delayed and cancelled flights including spare flights, more training for personnel force or coordination between carriers to improve service quality.
Namely, low-cost carrier VietJet Air is asked to decrease the rate of cancelled and delayed flights to 50 per cent of its total in July and August and 90 percent in October; Jetstar Pacific Airlines has to drop 90 percent of the percentage of cancelled and delayed flights in November and Vietnam Airline must reduce the proportion of cancelled and delayed flights to same rate in 2013.