Three ministerial meetings of the Association of Southeast Asian Nations (ASEAN) kicked off in Da Nang on January 13, beginning a series of activities in 2010 as Vietnam assumes the role of ASEAN chair.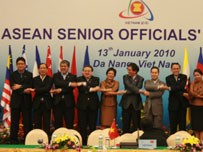 ASEAN delegates hold hands at the opening of the senior officials meeting in Da Nang on January 13. (Photo: Thanh Nien)
The three meetings, focusing on ASEAN integration, include the ASEAN Foreign Ministers' Retreat (AMM Retreat), the third ASEAN Political Security Council (APSC) Meeting, and the Special ASEAN Coordinating Council (ACC) Meeting.
The ASEAN Senior Officials Meeting (SOM) was held on January 13 to prepare for other meetings on January 14.
This is the first conference to take place under the chairmanship of Vietnam.
Ministers at the APSC meeting will focus their discussion on development in bodies under the ASEAN Political Security Council and the implementation of the APSC blueprint.
The ACC meeting will review documents and recommendations after they are submitted by Permanent Committee representatives.
The head of SOM Vietnam, Pham Quang Vinh, said at the meeting that as President of ASEAN 2010, Vietnam will give priority to promoting economic cooperation in relation to the theme 'From vision to action.'
According to ministers, five issues will be prioritized for discussion and proposals will be put forward on: ASEAN cooperation and its external relations; ensuring the quick completion of ASEAN documents; the continuation of cooperative activities among ASEAN members; enhancing cooperation in ASEAN countries and partners in the media; advertising and giving prominence to ASEAN's role in the region.
The next meeting of ASEAN senior officials is expected to be held in March in Vietnam.