On June 14, the first two ministers to appear in the National Assembly Q&A session had to face frank and direct questions from NA deputies, and, according to most deputies, their answers are not satisfying.

Minister of Public Security Le Hong Anh quizzed on PMU 18 scandal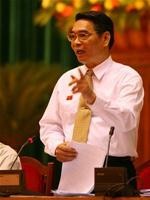 Mr. Le Hong Anh

Minister of Public Security Le Hong Anh was asked about the wrongdoings in three scandals related to the Ministry of Transport.

Many NA deputies want to know who is to be blamed for a series of corruption scandals involving bribery, nepotism and illegal gambling in state agencies, especially those of the Ministry of Transport.

Deputy Nguyen Xuan Huong from Ha Tinh Province asked: "Was the PMU 18 case the result of an investigation process or just randomly uncovered from a gamble at Ha Noi Botanical Garden?" Minister Le Hong Anh got confused with that question, and just beat about a straight answer.

"Has it been made clear whether some investigation officials are involved in the PMU 18 case?" Huong continued. Mr. Le Hong Anh said the ministry leaders and Party Committee had directed a review of all events, including the car borrowing from PMU 18. "Through the review, we realized that the cars were borrowed just for a district public security service and not for personal purposes. So we asked them to return the cars. It is not an illegal act to punish," Mr. Anh said.

Deputy Tran Ngoc Duong (Kien Giang Province) expressed his discontent with Mr. Le Hong Anh's answer about the Thi Vai Port scandal. According to Mr. Duong, the former chief officials of Viet Nam Petroleum Corporation should be punished for their wrongdoings, regardless of age or merits. The Ministry of Public Security and People's Supreme Procuracy were so gentle in that case.

Many deputies agreed that it was unfair to handle such a serious case as an administrative violation.

Minister of Transport is the focus of speculation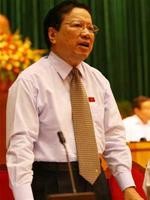 Mr. Dao Dinh Binh

Minister of Transport Dao Dinh Binh seemed to be well-prepared for a series of questions from NA deputies.

He apologized to NA deputies and voters for the Project Management Unit 18 (PMU 18) scandal, saying he must take responsibility for the wrongdoings.

Minister Binh admitted that the ministry's administrative system had not worked efficiently, leading to a series of wrongdoings in the sector, with PMU 18 case being the most serious incident.

Deputy Nguyen Thi Anh Tuyet (Quang Ngai Province) asked: "PMU 18 was given so much priority. Why did the Ministry of Transport let the situation last so long?" Mr. Dao Dinh Binh quoted Decree 52, saying that the Ministry of Planning and Investment will set up regulations on the structure and operation of project management units but the task has not been completed. 

Regarding the shortcomings in the construction and upgrading of the national road system, the minister said that over the past five years workers have repaired and upgraded 10,800 km of roads in conditions of unfavorable weather and complicated hydro-geological features in which shortcomings appeared.

However, the minister admitted that many contractors had not kept strictly to the required technical standards while supervisors and managers of these projects failed to fully perform their tasks.

Minister Binh assured the NA deputies that the Ministry of Transport is examining these projects and will command those contractors with poor perfomance and completion to repair their finish.

He underlined the need to issue specific institutional tools, especially financial tools, for resolving wrongdoings committed by PMUs that currently lack an efficient management structure.

The minister also pointed to the necessity of making changes to the bidding mechanism, which is currently backward and ridden with loop-holes that create favorable conditions for corruption and poor performance.