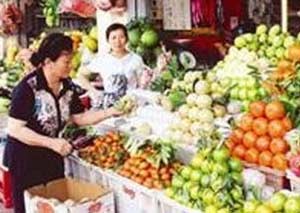 Many Vietnamese have cut spending due to high inflation.
Ministries have taken action in combining forces to curb inflation and strive for sustainable growth in line with a Government order.
Transport Minister Ho Nghia Dung has requested transportation businesses not to increase their fares. He says despite of increased fuel cost, transportation firms "have to scarify part of their interests to make contributions in curbing inflation and stabilizing prices."
The minister assigned his ministry's Transport Department to work with relevant State agencies to check out the execution of this request.
In order to practice thrift, the minister asked agencies and organizations in the transport area to postpone overseas trips that are not really necessary, and to cut down the number of meetings and workshops.
A request from the ministry to industry companies is to streamline business operations and cut costs to better deal with increased fuel cost.
The Viet Nam Railway Corporation, which started increasing its railway fares by 7-15% on April 1, has announced it would soon apply the former fares, as before April 1, and plans to do this on April 10.
Mr. Dinh La Thang, chairman of PetroVietnam, says he has approved a PetroVietnam action plan to carry out the Prime Minister's order on curbing inflation. The major measures include boosting business activities, not increasing the prices of oil and gas products, and fertilizers. In some cases, PetroVietnam will consider lower prices.
PetroVietnam will also increase the amount of imports supplied by established partners with some discounts. The leading State-run corporation expects to be able to meet 70% of the domestic need of nitrogenous fertilizer, thus reducing the fertilizer price by 10-15%.
In health care, Deputy Minister of Health Cao Minh Quang on April 3 asked leaders of provinces and cities to turn down price increase proposals by drug companies.
The Ministry of Health has asked provincial and city Departments of Health to closely monitor medicine prices in their localities.