A working group including representatives of concerning ministries, leading domestic and foreign experts on the maritime environmental protection yesterday started working with Taiwanese Hung Nghiep Formosa - Ha Tinh Steel Company and Vung Ang Economic Zone in Ha Tinh province following the mass fish death in north central coastal provinces recently.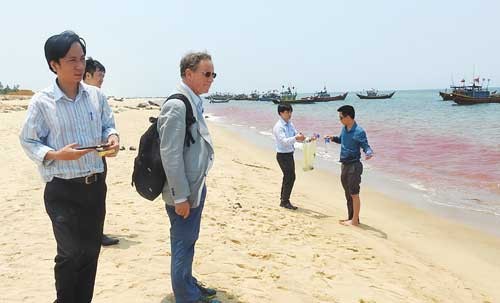 Inspection delegation takes the test result at beach. (Photo: SGGP)
The delegation consisting of six inspection teams including the Ministry of Natural Resource & Environment, Ministry of Agriculture and Rural Development, Ministry of Public Security, Ministry of National Defense, Ministry of Construction, Ministry of Industry and Trade is scheduled to adopt inspection of law enforcement on fresh environmental protection, wastewater treatment system, gas exhaust and industrial waste management and analyze test results at some projects of Taiwanese Hung Nghiep Formosa Ha Tinh Steel Company and Vung Ang Economic Zone.
In the first day inspection, the delegation received information from leaders of Formosa Ha Tinh Company about its project as well as environmental protection measures.
By May 7, the working group will complete analytic work and the test results at Formosa Ha Tinh Company.