Speaking at an online meeting on implementation of socioeconomic growth for 2017, Vietnamese Prime Minister Nguyen Xuan Phuc said that participants must analyze socioeconomic situation in 2016 and put forward key missions for 2017.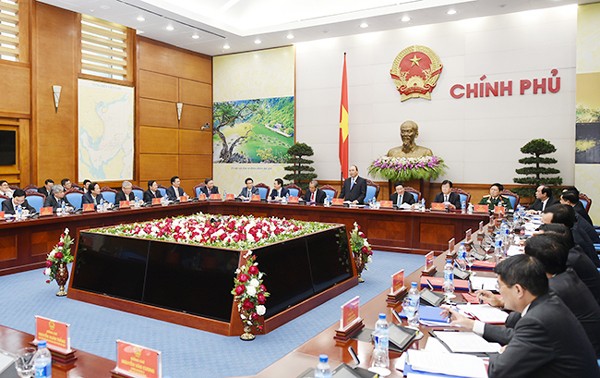 Scene of the meeting (Photo: SGGP)
In 2016 which is the first year to carry out the Party's Resolution, PM said, the country was facing many difficulties with rampant disaster nationwide even at present. International situation developed complicatedly. Meantime, national competition ineffective enterprises, more new policies and law also affected the running.

In the context, the government has rightly directed; therefore, the country has achieved good results such as annual economic growth of 6.3 percent; stable macroeconomy; controlled inflation; stable exchange market; foreign exchange reserves of US$41 billion.

Though export reduced in the globe, Vietnam has seen in an increase in export of 8 percent; trade surplus of US$2-3 billion. Social contribution is estimated to reach 32.5 percent of the country's GDP; foreign direct investment (FDI) totaling an estimated $12.8 billion, a year-on-year increase of 9 percent and new-registered FDI reaching US$24.4 billion.
Additionally, in 2016, for the first time, 110,000 new enterprises registered to establish in the country.

Yet, PM Phuc also pointed out the remaining in 2016 which relevant agencies must clarify in the meeting. The mining sector production reduced 1 million tons badly affecting the state's budget. Disaster ravaged the country; environmental incident Formosa influenced the growth; losses of giant projects worth thousands of billion were reported; traffic accidents and fire took place nationwide.

The PM asserted the government's determination in building transparent administration. Also he urged departments and agencies to point out weaknesses to tackle it in 2017.

At the meeting, Deputy PM Vuong Dinh Hue said that the goal of 2017 is to keep the sustainability of the country's macroeconomy which will be basis for the development; restructure of economic strategies for strong growth, administrative reform, corruption intensification.

Deputy PM said that agencies and ministries must report the action plan to the government in January 2017.