The Ministries of Finance, and Trade and Industry on August 28 officially confirmed the new retail prices of gasoline, diesel, and kerosene.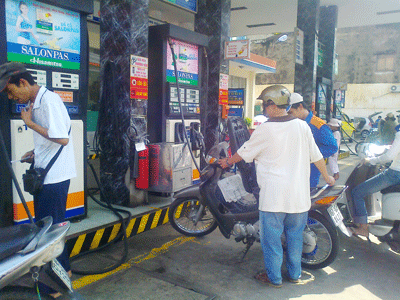 People filling petrol before prices go up ( Photo: U. Phuong)
Nguyen Tien Thoa, head of the Department of Price Management under the Ministry of Finance, said that retail prices of gasoline and diesel will be increased by VND650-700 a liter and kerosene by VND500 a liter from 7.00 pm today, it being the third price increase this month.
The global price of petroleum on August 27 was US$123 a barrel, an increase of 13.4 percent, and VND1,400 higher than the present price in Vietnam. Thus the ministries decided to increase the prices of petrol, diesel and kerosene.
The new retail prices will be VND23,700-24,200 per liter for A92 and A95 gasoline, VND21,940 for kerosene and VND21,950 for diesel.
The Ministries of Finance, and Trade and Industry have also announced that import tax on petrol will remain unchanged at 12 percent. However, Thoa said if world prices go up within the next 10 days, the ministries will adopt measures to regulate prices in Vietnam.
Though the new retail prices will apply from 7.00 pm onwards, the National Petroleum Corp (Petrolimex) and Saigon Petrol will apply the new price hike from 6.30 pm and 6.00 pm respectively.
Because many filling stations nationwide have stopped selling gasoline, citing reasons such as 'power failure' or being 'out of stock', the Ministry of Trade and Industry has asked enterprises to provide enough stock in filling stations to meet the demand.
The ministry also ordered market management bodies to impose penalties on speculators and those who violate regulations.