Ministries of Agriculture and Rural Development and Science and Technology hosted a conference to implement a project on development of Vietnamese rice brand name in the Mekong Delta province of Kien Giang on Tuesday.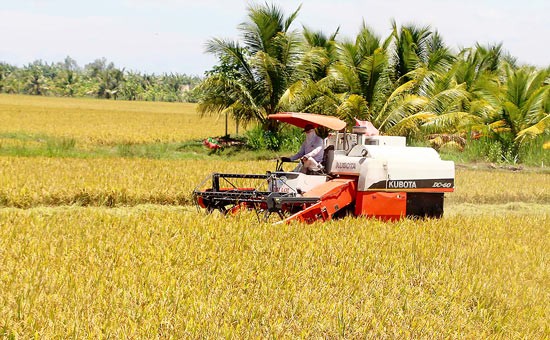 Farmers harvest rice with combine harvester in the Mekong Delta (Photo: SGGP)
The Ministry of Agriculture and Rural Development affirmed the project's significant role with a target that 20 percent rice export volume will be under Vietnamese brand names by 2020. 
The rate will increase to 50 percent by 2030, of these 30 percent will be fragrant rice and specialties, it added. 
After 30 years of renovation, from a food-shortage nation, Vietnam has developed into the third largest rice exporter in the world with annual output of 6-8 million tons and value of US$3-3.7 billion. 
However, Vietnam's rice production industry still shows many challenges such as small scale, weak connectivity, unequal quality, products without brand name and limited attention in globally value chain.