The health, finance, industry and trade, and planning and investment ministries met yesterday to discuss measures to check the rising drug prices.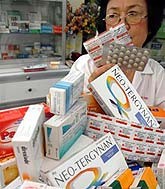 The government will keep an eye on hospital drugstores
They agreed to ensure adequate supply of drugs and increase domestic production to reduce dependence on imports.
Truong Quoc Cuong, head of the Drugs Control Department, said the government would keep a close eye on public hospital drugstores to make sure customers got genuine drugs at fair prices. Hospital authorities would be responsible for their drugstores, he said.
Tenders to supply medicines to hospitals and public health care institutions this year would be carried out in a transparent manner, he said. The government would make sure that tender prices were the same as last year's and prevailing market rates.