The Ministry of Industry and Trade (MIT) has set up a hotline to help fishermen in the coastal central provinces sell fish caught offshore.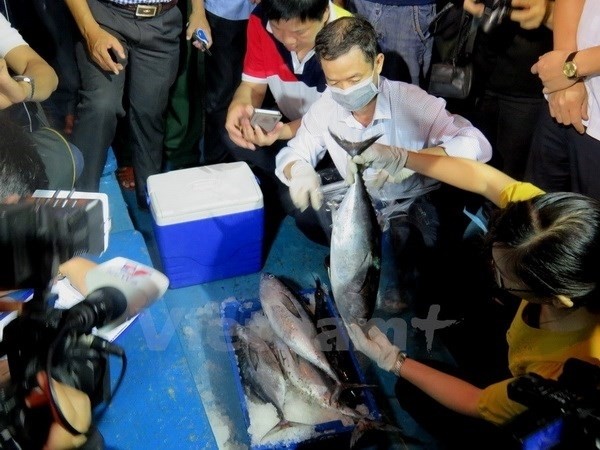 Local authorities from central Quảng Bình province check newly caught fish before issuing certificates of safety, hygiene and origins.

The move also aims to eliminate problems for fishermen who suffered losses due to massive fish deaths along beaches in the region over the past weeks, following the direction of Deputy Prime Minister Trịnh Đình Dũng after his working visits to Quang Binh and Ha Tinh this weekend.

At the working session yesterday with local authorities from central province of Ha Tinh, the Deputy PM affirmed that keeping lives of fishermen stable along coastal areas from Ha Tinh to Thu Thien Hue provinces is an urgent task.

Further, he asked the ministers of Agriculture and Rural Development, Health, Science and Technology, Natural Resources and Environment, and Industry and Trade, along with the head of the State Bank of Vietnam, to immediately set up permanent working groups in Ha Tinh, Quang Binh, Quang Tri and Thua Thien Hue provinces. These working groups will collaborate with chairmen of the people's committees of these provinces to deal with issues that may arise in assisting fishermen.

The Ministry of Science and Technology is responsible for working with agencies to determine the cause of fish deaths, with assistance from foreign experts, the Government official said.

The Ministry of Health has been assigned to be the lead agency to identify whether poisons were found inside dead fish, as well as any possible effects on human health.

Also, the State Bank of Vietnam is responsible for directing commercial banks to devise plans to extend the duration of repayments and develop policies to decrease debt and assist fishermen who suffered losses, the Deputy PM said. 
At a meeting yesterday afternoon with agencies looking into the causes of the fish deaths, Minister of Natural Resources and Environment Tran Hong Ha asked daily sea water sample testing at beaches from Hà Tĩnh Province to Da Nang city to make sure the water is safe for swimming and other tourism activities.

In a related report, a task group dispatched by the Department of Agriculture and Rural Development of Quang Binh province has been on duty round the clock at local fishing ports or markets to check and issue certificates of safety, hygiene and identify the origins of fish caught offshore Spratly Islands.