Vietnamese ministers have vowed to combat wastefulness in various fields in 2006. Finance Minister Nguyen Sinh Hung has submitted a governmental plan of action for this fight to the Prime Minister
The ministries of Planning and Investment, Agriculture and Rural Development, Construction, Transport and other ministries have also submitted their anti-wastefulness plans to the Prime Minister.
Construction Minister Nguyen Hong Quan revealed a shocking figure that an inspection into 17 construction projects with a combined investment capital of VND14 trillion discovered that VND477 billion of the investment was spent wastefully.
"Experts estimate that losses and wasteful spending in the decision making process for investment in construction projects account for the largest waste of 70% of the total losses and waste," Mr. Quan said.
Finance Minister Hung said one of the reasons why efforts made so far to fight wastefulness are not as effective as expected was that punishments have not been made on time and properly.
Therefore, in the first quarter of 2006, the Ministry of Finance will issue rules on compensations and punishments. A set of standards and responsibilities for civil servants will also be issued in 2006, he said.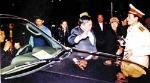 A State official uses a public car for his visit to a pagoda
In the same year, the fight against wastefulness will expand to other areas, which have aroused public concerns for a long time, Finance Minister Hung said. He cited the purchase and use of public cars, the management and use of offices and houses used for public work, the purchase, management and use of equipment for offices, national programs, and the management and use of financial aids.
Purchases of new cars for State organizations and agencies will be suspended as from June 1, 2006. The nationwide management of State-owned land and houses will be improved.
Six Important Legal Documents to Come out soon
To support the fight against wastefulness, six legal documents will be issued in the coming time, including a decree regulating the responsibilities of the heads of agencies and organizations that wasteful spending and corruption are uncovered.
Three other decrees will be rules on individuals' property declaration; on job positions and periodical changes of positions, on the duration of business an official can do after his/her term in office.
The other two legal documents will regulate details about giving and receiving gifts, reporting the gifts to authorized persons, and rules on authorities' incomes.