A meeting held by the Ministry of Agriculture and Rural Development had met to discuss how to boost the linkage between farmers and enterprises in pepper and coffee sectors with the aim at increasing value and competitiveness.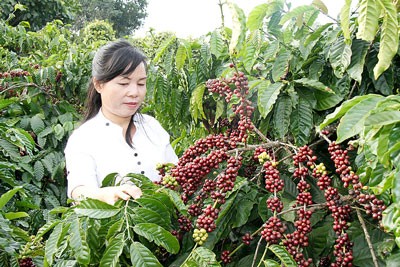 (Photo: SGGP)
In 2016, Vietnam earned US$3.34 billion from exporting 1.78 million tons, an increase of 32.8 percent in the volume and 25 percent in the value. However, it is still low because Vietnam exports raw material.

According to the Department of Crop Production, the rate of processed coffee accounted for 10 percent of the whole country. Nguyen Viet Vinh, Secretary General of the Vietnam Coffee and Cocoa Association (Vicofa) said that the connection between enterprises and farmers is weak; mostly deals are made through traders.
Another thing is that enterprises deal with each other on the agreement of moisture level, the rate of broken coffee-beans, and impurities and just 1 percent of enterprises abide with the standard. Consequently, Vietnamese coffee is priced lower.

Similarly, pepper sector also has had same problems like coffee sector. Worse, prices of pepper decreased half because farmers expanded the growing areas and diseases are plaguing the plant. Currently pepper is sold at VND110,000 per kilogram ($4.8 a kilogram).

Deputy Minister of Agriculture and Rural Development Le Quoc Doanh asked the Department of Plant Protection and the Vietnam's Pepper Association to develop the connection between farmers and enterprises.