The Department of Agriculture and Rural Development in the southern province of Dong Nai will step up measures to curb the use of banned chemicals in pig-breeding.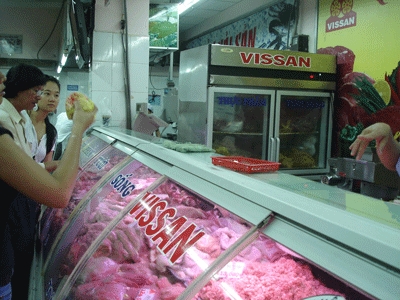 Safe pork available in large quatity at a supermarket (Photo: Anh Quan)
Following local media reports on the rampant use of chemical steroids in Dong Nai Province, and after veterinary workers found that urine sample of pigs had tested positive for the banned agent, the animal health agency said it will from next time conduct quarantine tests, including taking pork samples before selling to traders.
In case veterinary workers find the banned agent in samples taken from pigs, they will ask the local government to seize the herd of pigs for further investigation and impose penalties as per the law.
In addition, the animal health agency will coordinate with police and market management forces to investigate the origins of the illegal chemical, which is being used to produce super-heavy pigs.
In just a short time, related agencies in Dong Nai have detected five sale depots of the banned carcinogen chemical, which works by retaining the water content in an animal's body and swells muscle fibres, thereby adding weight to the animal while reducing fat content.
Pig breeders use the chemical to feed animals to ensure that meat is leaner and the animal grows faster. The chemical also dissolves fat and builds muscle. However, eating pork with the chemical content will increase the heart rate and blood pressure, causing digestive disorder and various other diseases.
Experts advise customers to watch meat cuts in which the layer of fat between the skin and muscle is super-thin, a sure sign that the pork contains the chemical substance.
Nguyen Thanh Son, Deputy Head of the Department of Animal Health, briefed the press at a meeting organised by the Ministry of Agriculture and Rural Development, that customers should not be so anxious about the situation because not all pork in the market contains the banned chemical.
Both the Ministry of Agriculture and Rural Development and the Ministry of Industry and Trade are determined to deal with the problem in the strictest possible way, Son added.
Those caught using and trading banned substances to breed animals will face a jail term of 3-5 years under the Vietnam Penal Code, as well as cash fines from VND10-40 million (US$1,920).