The Ministry of Agriculture and Rural Development (MARD) and the Electricity of Vietnam Corporation (EVN) January 11 agreed to supply 3.5 billion cubic meters of water to the Red River Delta to serve winter-spring crops this year.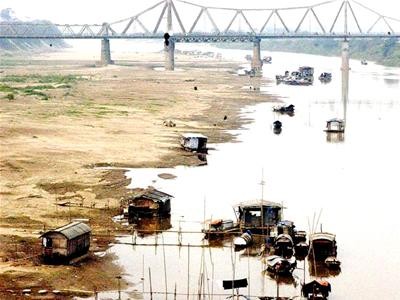 A view of the Red River in Hanoi, which recently dwindled to its lowest level ever at just 0.5 meters high. (Filed photo)
The ministry and EVN agreed to increase the release of water from 2.5 billion cubic meters to 3.5 billion cubic meters from reservoirs at Hoa Binh, Tuyen Quang and Thac Ba hydropower plants.
Farmers in the Red River Delta are facing a serious shortage of water for winter-spring rice crops in 2010, said the ministry.
Water scarcity in the region currently affects 80,000-100,000 hectares of land, among which 50,000 hectares were too dry to plant any rice.
Vice minister of the MARD, Dao Xuan Hoc, said water will be released from the reservoirs in three stages. The first stage will be carried out from January 26 to February 3, the second from February 7-13, and the third from February 22-24.
EVN will release water from reservoirs to ensure Red River water levels in Hanoi are at 2.2 – 2.3 meters. Till now, levels in the river have dropped to just 0.5-1 meter high.
Deputy General Director of EVN Tran Quoc Anh said water levels in reservoirs are also much lower than last year.
The amount of water in Tuyen Quang Water reservoir is down 1,095 million cubic meters over last year, Thac Ba is down 1,339 million cubic meters, and Hoa Binh is down 141 million cubic meters.
Meanwhile, electricity output for production in 2010 is expected to increase by 13.1 percent compared to 2009.