Refuting a report made to Prime Minister Nguyen Tan Dung against the construction of Long Thanh Airport in the southern province of Dong Nai, the Ministry of Transport has stepped in to ascertain the necessity of building the airport.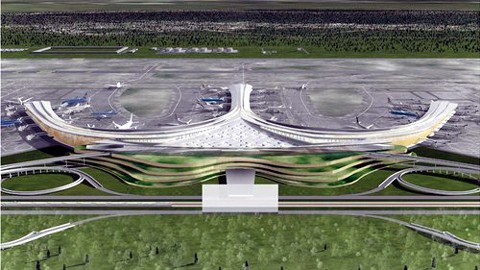 Impression architecture of Long Thanh Airport
Le Trong Sanh, former Head of Management of Tan Son Nhat Airport and former pilot Mai Trong Tuan, maintain that in order to meet increasing demand in air travel, Tan Son Nhat Airport in Ho Chi Minh City should be expanded instead of investing in a new airport in Dong Nai.

As per the ministry's report, the numbers of passengers arriving at Tan Son Nhat International Airport since the beginning of this year have been around 19 million.
In coming years this figure is bound to increase and Tan Son Nhat Airport will be overloaded. Hence it is feasible to expand the airport and its existing facilities.

The Ministry however said that Long Thanh Airport was approved by the Prime Minister as far back as 2004. 

Long Thanh International Airport will cover an area of 5,000 hectares, which is suitable for a modern airport, and will have capacity for 80-100 million passengers per year.

The airport construction will be implemented in three stages. The first phase at a cost of US$7.8 billion is scheduled to be fully operational by 2020, and will be capable of handling 25 million passengers per year and will also ease flow at Tan Son Nhat Airport.
The second phase will handle 50 million passengers annually and the third phase will complete by 2030 to tackle 100 million passengers per year.