Minister of Labor, Invalids and Social Affairs Dao Ngoc Dung has promised to give labor export priority to central fishermen who have been affected by the mass fish death caused by Taiwanese Hung Nghiep Formosa Ha Tinh Steel Company in the north central region.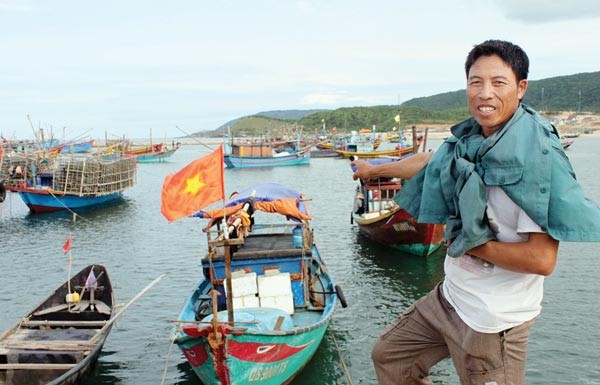 A fisherman by his boat in Ha Tinh province (Photo: SGGP)
According to announcement by deputy minister Doan Mau Diep during a meeting with the media in Hanoi yesterday afternoon, Minister Dao Ngoc Dung has found that employment and livelihood for fishermen is an important matter after conducting field surveys and working with provincial leaders.
The ministry had conducted the surveys in Thua Thien-Thien Hue and Quang Tri provinces to seek measures to assist affected fishermen before Formosa took responsibility for the mass fish death and pledged to pay US$500 billion compensation, Mr. Diep said.
Mr. Dung is going to continue working with Quang Binh and Ha Tinh provinces in the upcoming time, the deputy minister added.
Minister Dao Ngoc Dung has promised to give priority to the affected fishermen to participate in the ministry's low cost labor export programs, for instance, employment permit system (EPS) program which was signed in May to recruit 3,500 Vietnamese to work in South Korea.
In addition, the ministry will prioritize the four provinces to access the Japanese refresher course financed by International Manpower Development Organization (IM Japan).
To programs hosted by businesses, the ministry will instruct the Department of Overseas Labor to invite participation of prestigious companies.
This year, South Korea needs 800 fishermen to work on nearshore fishing boats. The ministry has allocated the recruitment to eight businesses and required them to prioritize those from the four central provinces.
It has instructed heads of Vietnamese Labor Management Boards in South Korea and Taiwan (China) to work with local partners to increase quotas for Vietnamese workers and organize direct recruitments without brokers.
Primary estimations show that about 263,000 Vietnamese people have been affected by the environmental disaster. Of these, 100,000 have undergone direct impacts.
The ministry said that it is necessary to help locals change their jobs. However a number of them still want to continue their old livelihood. Hence, relevant agencies should facilitate their fishing in other waters.
The Ministry of Labor, Invalids and Social Affairs and the Ministry of Natural Resources and Environment have recently discussed measures to intensify training for fishermen to transfer from nearshore fishing into offshore at a meeting, which was hosted to debate assistance policies to central fishermen in accordance with instruction by the Prime Minister.