The Minister of Natural Resources and Environment, Pham Khoi Nguyen, on May 10 inspected a newly installed wastewater treatment system at Vedan Vietnam, a Taiwanese MSG producer based in Dong Nai Province.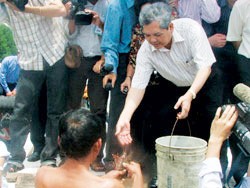 Minister Pham Khoi Nguyen meets with fishermen on the Thi Vai River on May 10. (Photo: Tien Phong)
He led a working group, including officials from HCM City and Ba Ria-Vung Tau and Dong Nai provinces, to examine efforts to clean the Thi Vai River, as Vedan had been discharging untreated wastewater into the river for a long period.

The visit also aimed to check Vedan had complied with regulations on environmental protection after a pollution scandal last year.
During a trip on the river, the minister asked relevant agencies to regularly check sediment on the riverbed, and control and prevent the discharge of untreated wastewater by all companies located along the river, as well as in industrial parks nearby.
He also met with fishermen on the previously damaged section, who said they started catching fish again about five months ago.
Each fishing boat can earn from VND500,000 – VND1 million per day, they said.
Vedan has paid a fine of VND267 million (US$15,700) for violation of environmental regulations and VND79.5 billion (US$4.67 million), out of the total VND127.2 billion, in environmental protection fees it had previously evaded.
Vedan has said it will pay the remaining amount in the third and last quarter of this year.
Regarding Vedan's compensation to farmers and fishermen, the minister said: "Any company causing economic loss and health problems to people must pay compensation."
"However, such compensation must be calculated based on convincing evidence", he added.