Ministry of Transport has launched a campaign, in Hanoi and Ho Chi Minh City, to motivate transport officials and staff workers to commute by bus to work daily, in order to ease traffic congestion.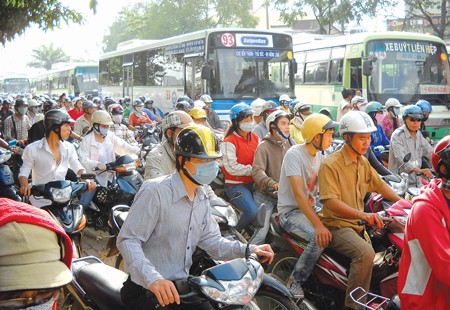 Traffic congestion is a daily occurrence in Hanoi and Ho Chi Minh CIty (Photo:SGGP)
The Ministry intends to submit a master plan to the Government during the first quarter of next year, limiting use of personal transport while increasing capacity and quality of public transport.
Dinh La Thang, Minister of Transport wants to encourage transport officials and staff workers to commute by bus to work at least one day per week, to start with.
He said that traffic congestions occurred on a daily basis and it has now become a necessity for officials, workers and residents to cooperate in helping ease traffic by using buses as much as possible.
Many agreed with the minister's suggestion, but deferred on use of the present bus service in the country which they felt needed improvement and drivers and conductors better trained and hospitable.
Dr. Pham Xuan Mai from the College of Poly-techniques in HCM city said that the behaviour of bus drivers and the bus conductor had discouraged people from taking public transport. He added that there have also been serious bus accidents which made it difficult to persuade city residents to commute by bus to work.

A recent survey showed that 65 percent bus passengers had complained about buses not arriving on time, 16 percent said that drivers and conductors did not behave in a proper manner, while 4 percent complained about negligent driving.

Dr. Mai added that in order to deal with all these problems, the department must conduct a survey of all bus routes. More bus routes must also be added for connecting outlying districts and encouraging a larger number of people to use public transport.
Authorities should coordinate with each other to tighten control over the quality of bus service and apply stricter punishment on employees who violate rules. The worst case scenario being that the driver's license be revoked and he is then not allowed to drive any public transport.
Minister Thang said that the ministry would discuss various measures to improve bus services with the Hanoi Transport Corporation this month.
The ministry intends to work with the police department to raise public awareness on traffic laws and impose heavy fines on violators, especially erring transport officials.
Traffic congestion has remained a thorny problem in big cities for years and has become worse due to an increase in the number of vehicles each year, adding to more chaos on city roads.