All nursery schools and day-care centers must be responsible for taking good care of children and ill treatment including yelling and intimidation are strictly banned, according to a recent directive from Ministry of Education and Training (MoET).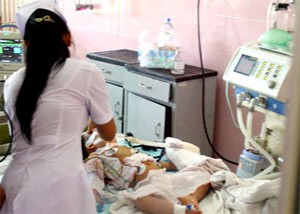 Do Ngoc Bao Tran was found to have stopped breathing at a private nursery school where her mouth was sealed. She is now in critical condition.
Accordingly, MoET ordered relevant agencies and officials to conduct careful checks on the well-being of children in local nursery schools and find more active measures to guarantee their safety.

Moreover, the education sector was directed to establish tighter control over private nursery schools to make sure that they have attendants with professional degrees and facilities which can meet safety standards for children. No child should be left unattended or bullied.
Only nursery schools which can meet the above requirements are granted licensing to conduct business while unqualified ones will have their licenses withdrawn.

These requirements were made as a MoET's response to the country's recent surge in school violence and child's ill-treatment.
Recently, an 18-month-old infant in Ho Chi Minh City was found to have her mouth sealed with duct tape by her teachers who confessed to police they only wanted to keep the child from crying out loud.