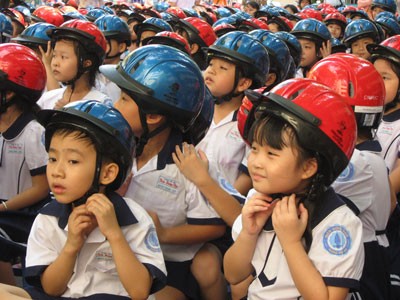 Children aged six or above must wear helmets when they're carried on two-wheel vehicles. (Photo: NLD)
The Ministry of Justice has objected to a proposal by the Ministry of Transport to double fines for traffic-law violators in Hanoi and Ho Chi Minh City on the grounds all citizens are equal before the law, the Government Office has reported.
Besides, there are many poor people in these cities, the ministry said.
It also disagreed with the transport ministry that vehicle owners should pay the fines if the police cannot identify drivers caught on cameras installed to monitor traffic.
It agreed that riders of two-wheel vehicles carrying children aged six or above without helmets should be fined but added the ministry should carefully study the procedures for identifying the child's age.