The Ministry of Natural Resources and Environment will suspend the operation of a factory in Dong Nai run by Vedan Vietnam, Minister Pham Khoi Nguyen told reporters at a press conference. The Taiwanese-invested MSG maker will face the maximum penalty for discharging untreated wastewater into the Thi Vai River, he added.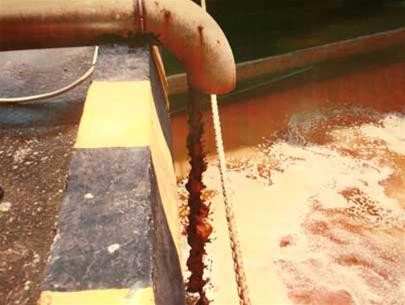 A waste water pipe of Vedan (photo :TTO)
Vedan has been discharging untreated effluents into the river for a long time, causing trillion of dong worth of damage to the environment, according to the ministry.

The government must spend tens of million of dong to treating a cubic meter of wastewater, according to Deputy Minister Tran Hong Ha.
In addition, low river water quality has influenced the agricultural and aquatic breeding activities of residents along the river.
The company confessed to its crimes after the Environment Police Department caught it red-handed discharging untreated wastewater, Mr. Nguyen said.
Investigators found that the company had deceived the government reporting its wastewater as type B even though it contains dangerous chemicals in excess of the standard for this type of discharge.
The minister told reporters that his ministry will investigate Vedan elsewhere in the country. The company was required to provide compensation for economic and environmental losses arising from its actions.
The minister promised to impose harsh penalty on the company as the Prime Minister Nguyen Tan Dung had paid attention on the case. Severe fines will be proposed to deter foreign companies from breaking the regulations of the host country.
Documents are being prepared and that will wrap up in the process to prosecute Vedan Vietnam for its violations, the minister said.
Vedan intentionally breached regulations, said Mr. Le Bac Huynh, deputy general director of the Water Resources Management Department. To discourage entrepreneurs from committing wrongdoing, environmental watchdogs should conduct regular inspections, he added.
Nevertheless, the ministry confessed that the government could lose control over such things due to lack of personnel, out-of-date technology and equipment. Moreover, local authorities ignore environmental protection for fear driving investors away.
Sadly, some local administrators have proposed reducing environmental standards, Mr. Nguyen said. They would make Viet Nam pay an exorbitant price to woo foreign investment, he added.
Related article:
Tiny Fines Fail to Halt Discharge of Untreated Wastewater