The Ministry of Agriculture and Rural Development has proposed the Government to task it to build an organic farming development project in the phase of 2018-2025 to recognize and certify organic products, which have been self-proclaimed by producers in the market.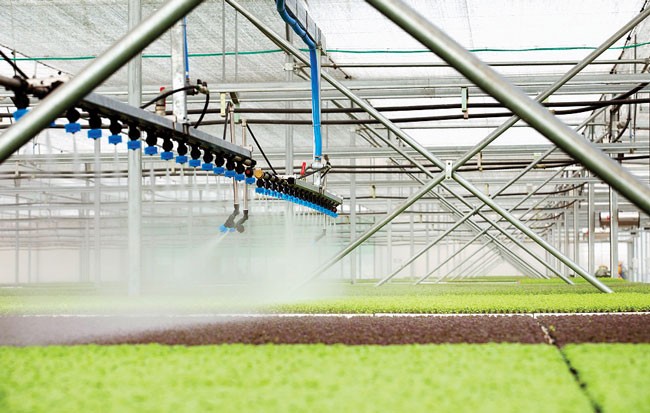 An organic vegetable farming model in Vietnam (Photo: SGGP)
Aside from that, the ministry has suggested land and credit incentives and issue of breakthrough policies to lure social investment in the field.
According to deputy minister Tran Thanh Nam, organic farming development has met with lot of barriers because Vietnam has no national standard system for this field and no certification organization.
Legal system has been asynchronous for production, certification and quality supervision of organic products. Consumers' belief in these products has not been high. Organic farming has been implemented spontaneously over small scale in many different areas without plans.
Lot of organic food self-proclaimed by producers have been offered for sale without supervision or certification by domestic authorized agencies. The organic concept has burst out in the market, social networks and forums for the last one year.
As food safety and hygiene has become an urgent issue, many people have paid heed to the new products, supposed to be produced naturally without chemicals and meet tight regulations on production, processing and preservation.
The number businesses investing in hi-tech and organic farming has been increasing, reported the ministry. Recent clean food and farm produce expos in Hanoi and HCMC have showcased organic rice, vegetables, milk, honey, tea and hundreds of other organic items, priced rather expensive. A kilogram of organic vegetable has been priced VND25,000-30,000.
The market has seen 4-5 organic rice brand names with the lowest price of VND35,000 and the highest price of VND150,000 a kilogram, tenfold normal. Organic pork fetches VND220,000-250,000 a kilogram while clean pork has swung around VND110,000-140,000.
Mr. Tong Xuan Chinh, deputy head of the Department of Livestock under the Ministry of Agriculture and Rural Development said Vietnam has not granted organic certification to any business.
Representatives of some authorized agencies affirmed that organic standards applied by some large companies in Vietnam are from independent international organizations such as Control Union and IFOAM. Assessment and certification depend on their prestige not recognition from local authorities or associations.
At a conference on organic agriculture by the ministry in Hanoi on April 4, many companies brought their products to the event to advertise.
Talking about organic food, Minister Nguyen Xuan Cuong said that in fact the Ministry of Science and Technology had issued a set of organic food standards in 2015. However regulations have been unclear so in the upcoming time, the two ministries would have to work together to give norms for these products and specific guides for businesses and certification organizations.
There must have a connectivity for international organizations to recognize Vietnam's organic standards, he added.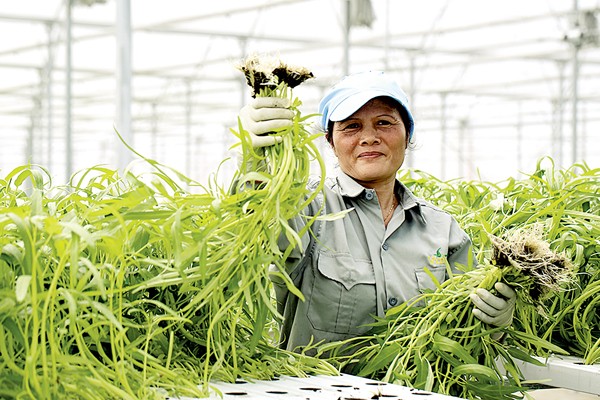 The woman harvests water morning glory. Organic farming model is a new step forward of Vietnam's agriculture (Photo: SGGP)
According to Mr. Cuong, organic and hi-tech faming development is inevitable to meet local consumption demand and develop tourism as the number of foreign visitors to Vietnam has been increasing.
He affirmed that organic agriculture is the country's direction in the upcoming time. Data from the Ministry of Agriculture and Rural Development show that 30 out of 63 provinces and cities nationwide have implemented or headed toward organic farming with 59 establishments.
Of these, the Mekong Delta province of Ben Tre has planted 3,000 hectares of coconut trees. The central province of Ninh Thuan grows 448 hectares of grape, Indian jujube (Vietnamese apple) and vegetables.
In addition, there are some organic models in the northern region such as vegetables in Luong Son, Hoa Binh and Soc Son, Hanoi; tea in Bac Ha, Lao Cai and Ham Yen orange in Tuyen Quang.
Some businesses certified by international organization have successfully exported their organic farm produce to the EU, the US, China. Of them is Vien Phu Company with 200 hectare of hybrid rice, Organik Da Lat providing vegetables and Ecolink making tea products.
In the breeding field, Vinamilk has invested in an organic farm with 500 dairy cows and TH True Milk with 1,000 cows. Bao Chau and Anh Dao farms have also obtained certificates by international organizations.