The Ministry of Communication and Information said November 26 it has collected donations of more than VND5.725 billion (US$301,316) through SMS messages in a one-month charity program to assist victims of Typhoon Ketsana in the central region.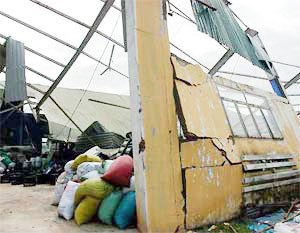 A house in Quang Ngai Province destroyed by Typhoon Ketsana (Photo: VnEpress)
Under the program that ended on November 10, people sent consolation messages to numbers 1401 to 1409 and their service provider billed them from VND2,000 to VND18,000 and sent the money to the ministry.
Viettel handed over VND2.23 billion followed by Mobifone with VND1.8 billion, Vinaphone with VND1.5  billion, EVN with VND94.2 million, and Sfone with nearly VND10 million.
Some subscribers sent a large number of messages -- Quach Hong Nga of Ca Mau sent 280 messages to contribute VND3.5 million and Le Thi Hang of Hanoi contributed VND3 million.
On the same day officials from the ministry and Vietnam Fatherland Front handed over the money to representatives of four provinces worst affected by flooding last month in Central and Central Highland.
Quang Nam received VND1.8 billion, Kon Tum VND1.2 billion, Quang Ngai VND1.2 billion, and Phu Yen 1.525 billion.