The Department for Vietnamese Overseas Laborers under the Ministry of Labor, Invalids and Social Affairs has requested the relevant companies responsible for recruiting sailors to work on South Korean fishing ship Jeong Woo 2, to offer support to all its victims.
Le Van Thanh, Vice Director of the Department for Vietnamese Overseas Laborers said on January 12 that the Vietnamese Embassy in New Zealand had contacted local agencies and the South Korean Embassy in New Zealand to confirm information on the victims and offer necessary assistance to the injured.
The Vietnamese Foreign Ministry has also asked embassies in New Zealand and South Korea to work closely with relevant local agencies to take necessary measures to help the Vietnamese seamen.
Three Vietnamese crew members aboard South Korean fishing boat Jeong Woo 2 have been confirmed dead after the ship caught fire in the Antarctic waters early Wednesday, according to a report received from Maritime New Zealand (MNZ) officials.
The ship had 40 sailors on board, including 23 from Vietnam, when it caught fire on the Ross sea, about 3,700km southeast of New Zealand, according to rescue officials.
All the Vietnamese victims have been identified.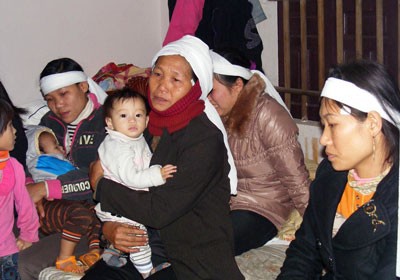 The bereaved relatives of Nguyen Van Dong

The three Vietnamese who perished were: Dang Ngoc Quang, 27, Nguyen Van Dong, 31, and Nguyen Van Son, 24. Four other Vietnamese crew members are suffering from serious burns, namely Tran Van Ngoan, 21, Nguyen Tu Liem, 26, Nguyen Chi Cong, 23 and Ngo Van Sy, 34.

The injured crewmen were picked up by the US research vessel Nathaniel B Palmer and were taken to McMurdo Base in Antarctica.

US research vessel Nathaniel B Palmer has been treating seven of the ship's injured sailors, who are Vietnamese and Indonesians, since Wednesday.




The injured are expected to be taken to a hospital in Christchurch, New Zealand once the US vessel reaches the US McMurdo Antarctic base.

According to a source from Vietnamese News Agency (VNA), a US Air Force cargo plane was to leave New Zealand late Thursday to evacuate seven of the injured crewmen.

The 37 remaining crew, who hail from South Korea, Vietnam, Indonesia, China and Russia, have all been taken on board Jeong Woo 3, which will pass them on to the Korean ice-breaker Araon to transport them later to New Zealand.

An investigation is underway as to the cause of the blaze.

SGGP reporters visited the relatives of the dead seamen in the central province of Nghe An. Nguyen Van Dong's second child is only 10 months old while his eldest is 3 years of age. Dong's father died in 1996 and ever since Dong was the sole bread winner of the family.

The other victim's family life is even more tragic. In order to help Nguyen Van Son to work on ship, his family had to borrow VND 30 million to give to the Vietnam labor company that recruited Son. Before Son's death his wife Pham Thi Ha, 5 months pregnant with child was killed in a traffic accident.