According to a report prepared by the Ministry of Construction, many measures have been now put in place to resolve the present freeze in the property market.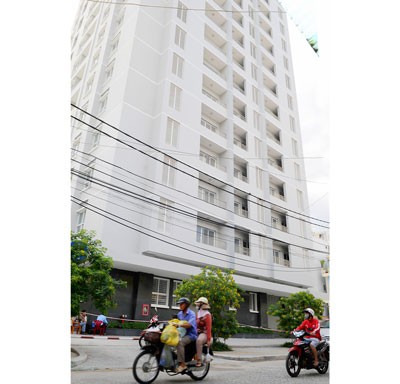 A social condo block in District 6 for poor teachers (Photo: sggp)
Minister Trinh Dinh Dung said the ministry has implemented several measures to balance supply with demand and combat growing bad debts as well as create social housing for students and low income groups.
Since 2012, the Ministry has been studying the various causes that led to freeze in the property market. 
Municipal and provincial authorities have been asked to reassess and convert condominium projects to suit market demand. Thus the Ministry has stopped 138 projects covering an area of 4,361 hectares, including 37 projects in Ho Chi Minh City.
The Ministry is concentrating more on building or converting existing buildings into social housing. As per a survey, by 2015 around 1.74 million people will face housing difficulties and 1.715 million workers from other parts of the country working in industrial parks will wish to settle down in the City. Low income groups too will need housing. 
Hanoi and Ho Chi Minh City will need 111,200 and 134,000 houses, respectively. 
The Ministry thus wants localities to build more social houses to meet the increasing demand. Realty developers have been required to restructure their property development plans to build more social housing projects for low-income groups and those entitled to social housing policies.
Investors have been ordered to convert commercial houses into social houses or converted large apartments into smaller ones. So far 56 investors of 23 condominium projects in Ho Chi Minh City have asked to convert their buildings into social housing or restructure size of apartments.
The Ministry said it has reaped some initial positive results in resolving obstacles in the property market and house prices have lowered, said Construction Minister Trinh Dinh Dung.
Dung also added that in future, the National Assembly will re-adjust business income tax and value added tax with preferential treatment along with credit packages that will allow members of the public to take out loans at only 6 percent a year to purchase apartments under social housing projects and small commercial projects. These measures will further help the frozen property market.