The Ministry of Transport yesterday officially expressed opinions about the recent state audit inspection concluding that many traffic projects developed under BOT (Build-Operate-Transfer) form must reduce toll collection time by years.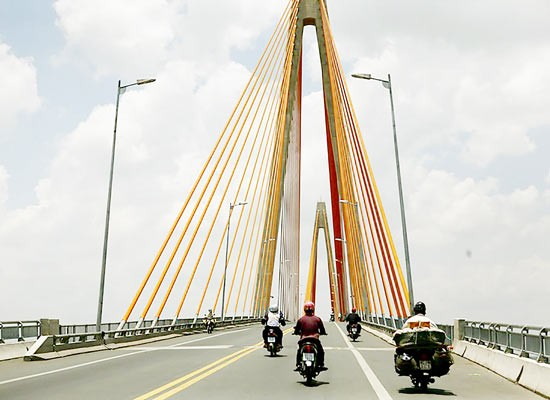 Toll collection time at Rach Mieu bridge, Highway 60, Ben Tre province has reduced from the initially calculated time of 22 years and ten months to 13 years and five months (Photo: SGGP)
The ministry said that total investment did not show the practical spending on the construction site so in BOT contracts, the ministry and a joint working group from the Ministry of Planning and Investment, the Ministry of Finance and relevant authorities decided to use definitive evaluation suitable with inspection and audit conclusions approved by authorized agencies as the final value to determine payback for a project.
 
The use of provisional fund must be approved by the Ministry of Transport. These clauses aim to tightly manage investment costs and determine payback.
 
According to the ministry, all BOT contracts stipulate that initial toll collection time is just expected and official time must be recalculated according to definitive evaluation and regularly updated in line with interest fluctuation and vehicle flow in practice.
 
Therefore, the payback does not affect the toll level which citizens must pay but depends on the definite evaluation and vehicle volume. If projection is suitable, macroeconomic factors are stable and investment management is well implemented, the reduction of the toll collection time is unavoidable and anticipated in BOT contracts.
 
In fact, the Ministry of Transport have based on estimate value to negotiate toll collection time cut for some projects not inspected by the state audit agency. For instance Highway 10's stretch La Uyen-Tan De has reduced toll collection time from 22 years and 19 months to 10 years and three months; Rach Mieu bridge in Highway 60, Ben Tre province has dropped from 22 years and ten months to 13 years and five months.