The Ministry of Agriculture and Rural Development hosted a seminar on measures for the worsening landslide in the Mekong Delta in Soc Trang province on Saturday.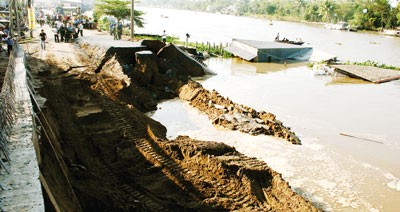 A landslide spot in the Mekong Delta (Photo: SGGP)
Over 3.9 million hectares of land in the Mekong Delta has complex geological structure with loose sediment layers.
 
The delta has nearly 400 spots of landslide, which has not only occurred during flooding season but also in dry season along large rivers and canals. The worst hit areas comprise Can Tho city, Hau Giang and An Giang provinces, where traffic works and residential areas have been threatened.
 
According to the Natural Disaster Prevention Department, riverside and seaside erosion has been caused by geological conditions, depositing, river and canal encroachment for housing construction and illegal sand exploitation.
 
Integrated Coastal Management Program director Christian Henckes asked related agencies to quickly and synchronously carry out measures to deal with the issue such as coastal afforestation and sea and river embankment construction.
 
It was necessary to mobilize all resources to protect the Mekong Delta from landslide because of the region's important role in food provision to residents, he said.
 
Deputy Head of the Natural Disaster Department Tang Quoc Chinh proposed local authorities to ban sand dredging in the lower reaches of rivers and coastal areas and building of works along rivers and the seaside.
 
The Mekong Delta should study to make proposals on regulations and policies to cope with erosion and landslide, he added.