2008 was the year when a spate of illnesses, brought by food poisoning, caused public outcries. Subsequently, the Vietnam Food Administrator (VFA), part of the Ministry of Health (MoH), will tighten food safety and hygiene in 2009, said a VFA official at a seminar on food quality in HCM City December 24.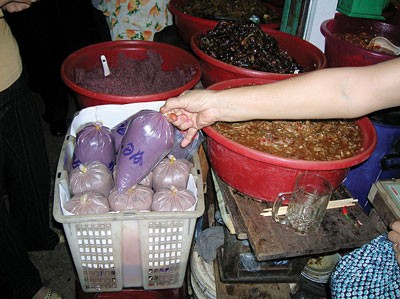 Unlablled food has led to a spate of poisonings
Deputy Head of VFA, Nguyen Thanh Phong, admitted that in spite of the efforts of his department and other agencies, a large number of food poisonings have taken place.
He added that several substandard imports were smuggled into Vietnam. In addition, some businesses and producers cared little for quality. This was apparent in the production of alcohol which has caused numerous deaths from poisoning.
Tests found Chinese-grown fruit sold at HCM City markets over the past month contained excess amounts of pesticide, said a representative from the Ministry of Agriculture and Rural Development.
Mr. Phong concluded that poor quality food will continue if unscrupulous businesses continue production.
Dao Van Lung, from the Party Central Committee's Commission for Culture and Ideology, said that food safety and hygiene requires the cooperation of manufacturers and consumers.
MoH promised stricter penalties for companies violating food safety regulations. They will receive administrative punishments, withdrawal of business certificates or fines.