The Ministry of Construction on Wednesday released a master plan to provide housing for the poor, ethnic minorities in remote areas, and veterans.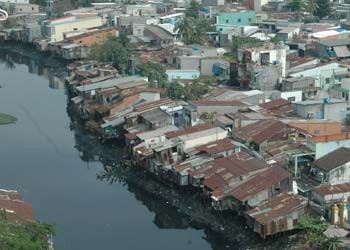 Slums along Van Thanh canal in Ho Chi Minh City (Photo: Duc Quang/VnExpress)
Projects have been built in Ha Noi, Ho Chi Minh City, Binh Duong and Can Tho. The master plan may take three years to implement.

According to the plan, the government will build houses for low-income public servants and soldiers to rent or buy for no more than 10 percent of their monthly salary.

As for the poor in rural areas and the ethnic minorities in remote areas, the government will provide VND7 million (US$430) each for building expenses and will offer subsidized loan of VND8 million (US$495).

The housing project will cost around VND10 trillion (US$620 million).

In addition, the Ministry of Construction will implement the second phase of its housing project to support residents living in landslide-affected area and in flood plains in the Mekong Delta.

As for infrastructure projects, the government will encourage private enterprises to operate state-built hospitals and schools by exempting them from corporate income tax, property and land use taxes, and also by giving them subsidized loans.